A class at Cyclo Studio is a high-energy, 45-minute, cycling workout experience. Rockstar instructors, thrilling beats & our top-notch stages technology will make your workout, your favorite part of the day.
Interested in trying it out? You can get a taste of our Cyclo Studio vibe via "First 2 rides"!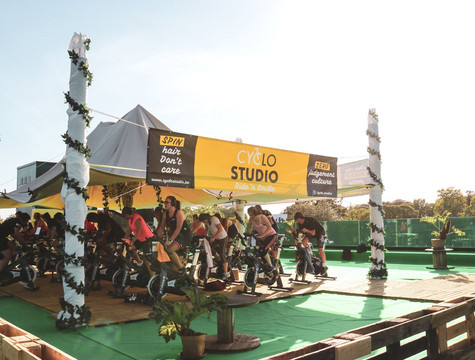 Year-round, we create an outdoor training paradise. Snow, rain, or sunshine. Nothing beats an intense Cyclo workout!
You can still train in your own personalized zones if you download the "Stages flight" app. When the class is finished, please have a seat, enjoy the vibes & take a drink from our honesty bar.
Looking for a more performance driven workout session of 75 minutes? Our stages technology makes it possible to train in your own personal training zone based on your FTP. Focus in this class will be less on high intensity but more on endurance power. Completed your workout? Check the leaderboards & your own performance in the Stages app.
In winter, we have specialized performance programs for amateur cycling teams. You can have your private class once a week, contact us for more info.
Everyone with a Cyclo Pass has free access to the indoor studio in Ghent during opening hours: 
Mon – Thu: 16h-21h30.
Always check-in at the front desk.
Classes promptly start on time, try to be in the studio 15-20 minutes before the class starts, definitely if it is your first time.
Don't worry about your personal belongings.
All can be put away in our easy-to-use digital lockers.
We have a 4-hour cancellation policy.
Cancel 4-hours before the class begins and your credit will be fully refunded to your account.